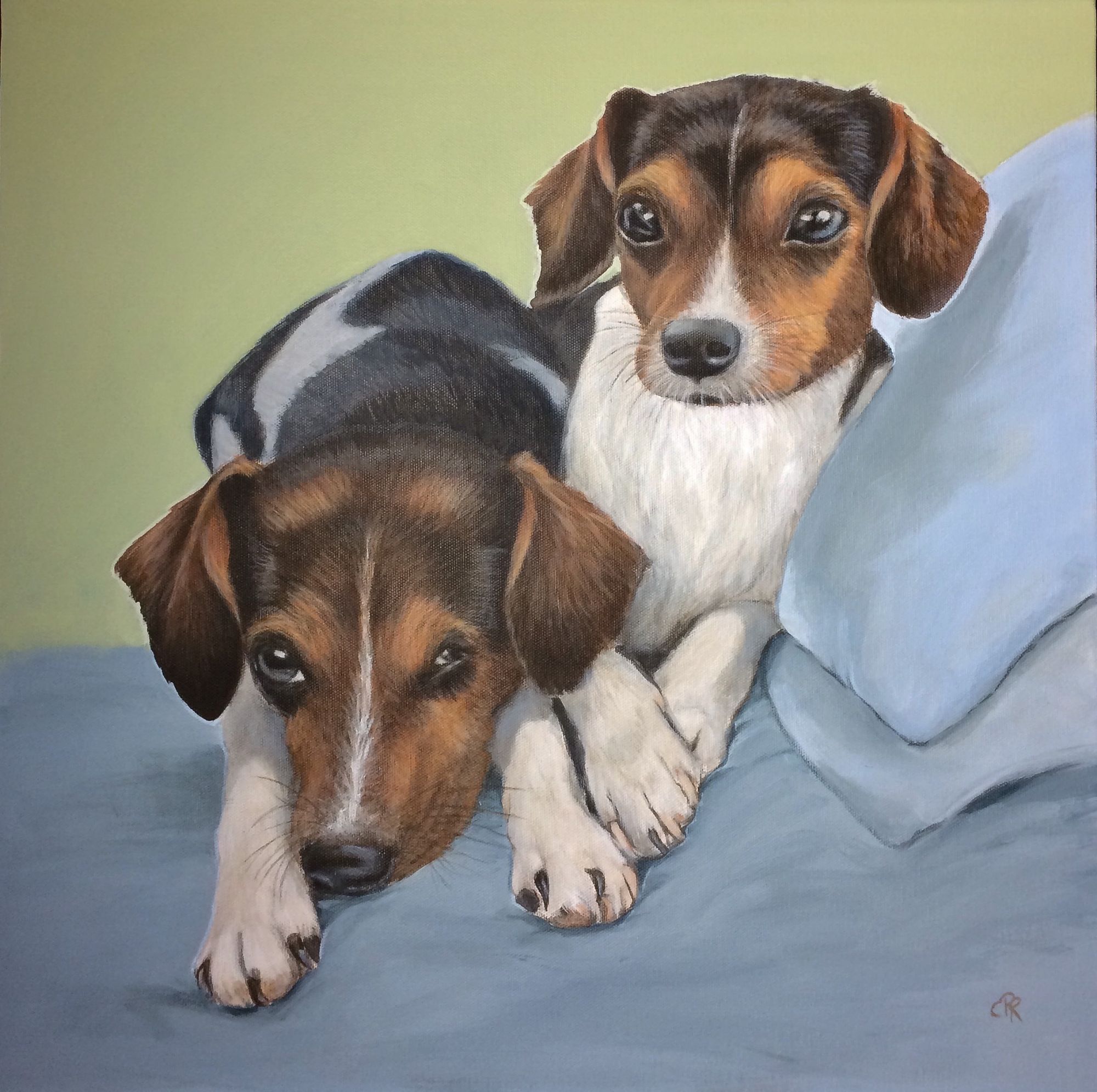 Bonnie and Boo
20x20 inch canvas
"We commissioned Carole to paint our two dogs. We couldn't be more thrilled. She sent us regular updates from start to finish and we were excited to see the progress. They are a perfect replication and the detail is phenomenal. I would recommend Carole to everybody. Thank you so much, we have a treasured memory which will last forever"
Debbie Oct 2018
Ralph
30x30 inch canvas
Amazing portrait by Carole of my pug, Ralph, for my husbands 50th birthday present. We were all absolutely delighted with it. Very highly recommended.
Lorraine Sept 2017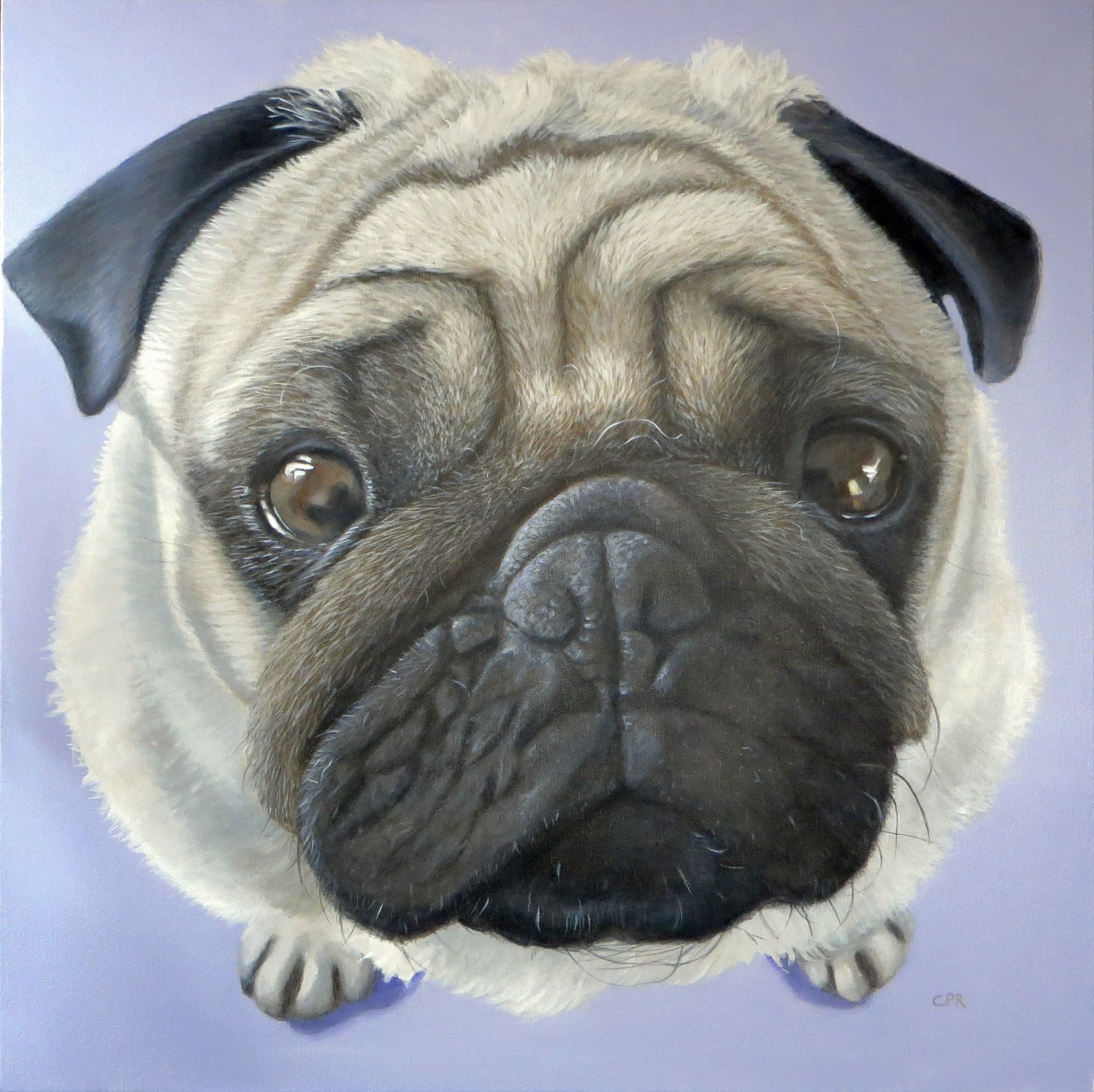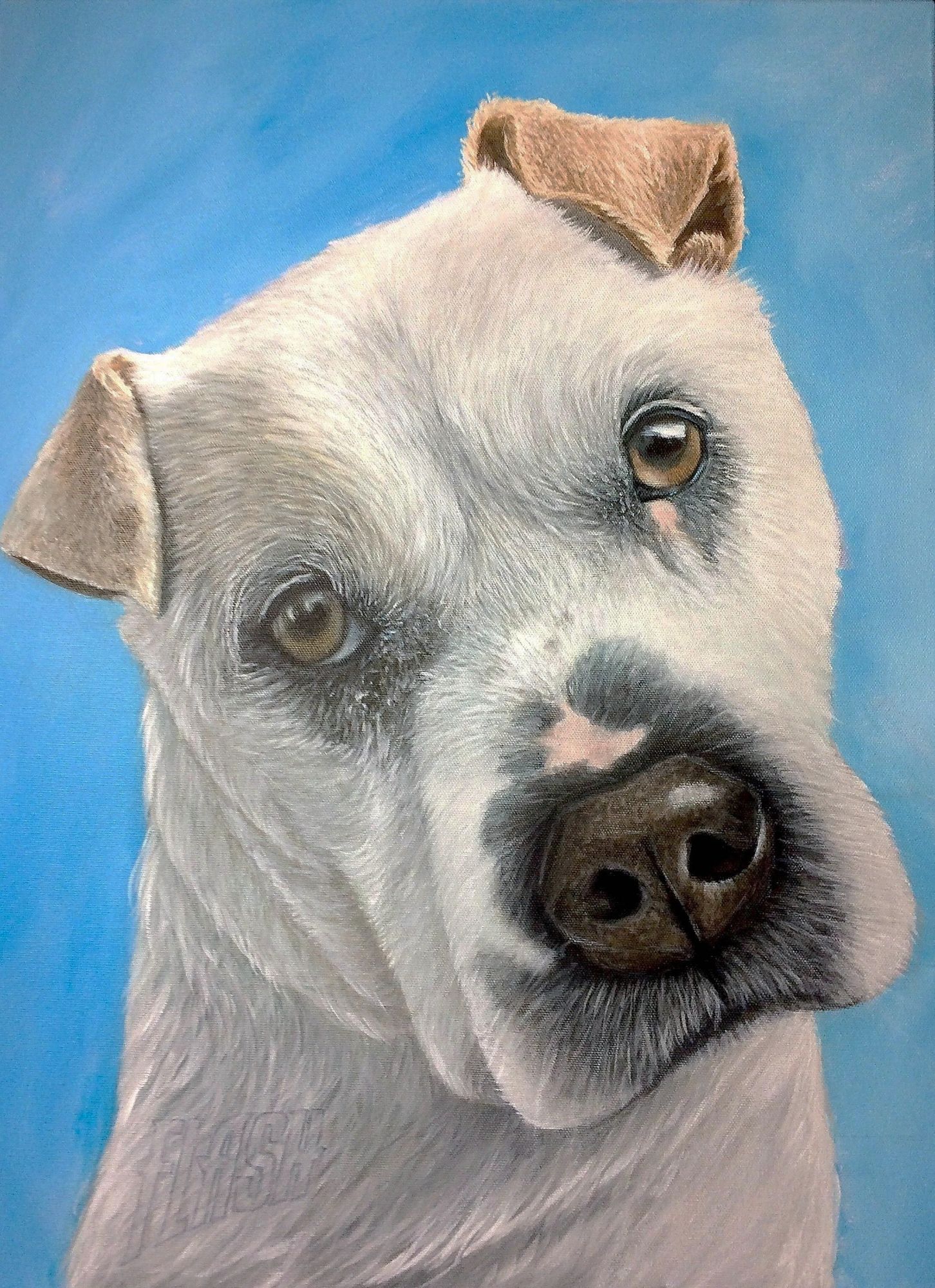 Flash
24x18 inch canvas
Carole is awesome , there's artists and then there's artists , Carole is an Artist of the highest order , after 14 years I know ever lump, bump, scar, hair, wet, shiny bit of my beloved Flash.
Carole's finished portrait left us in tears , I now have two Flash's , one needs feeding and walking the other hangs proudly on the wall , thank you CR
Jason 2017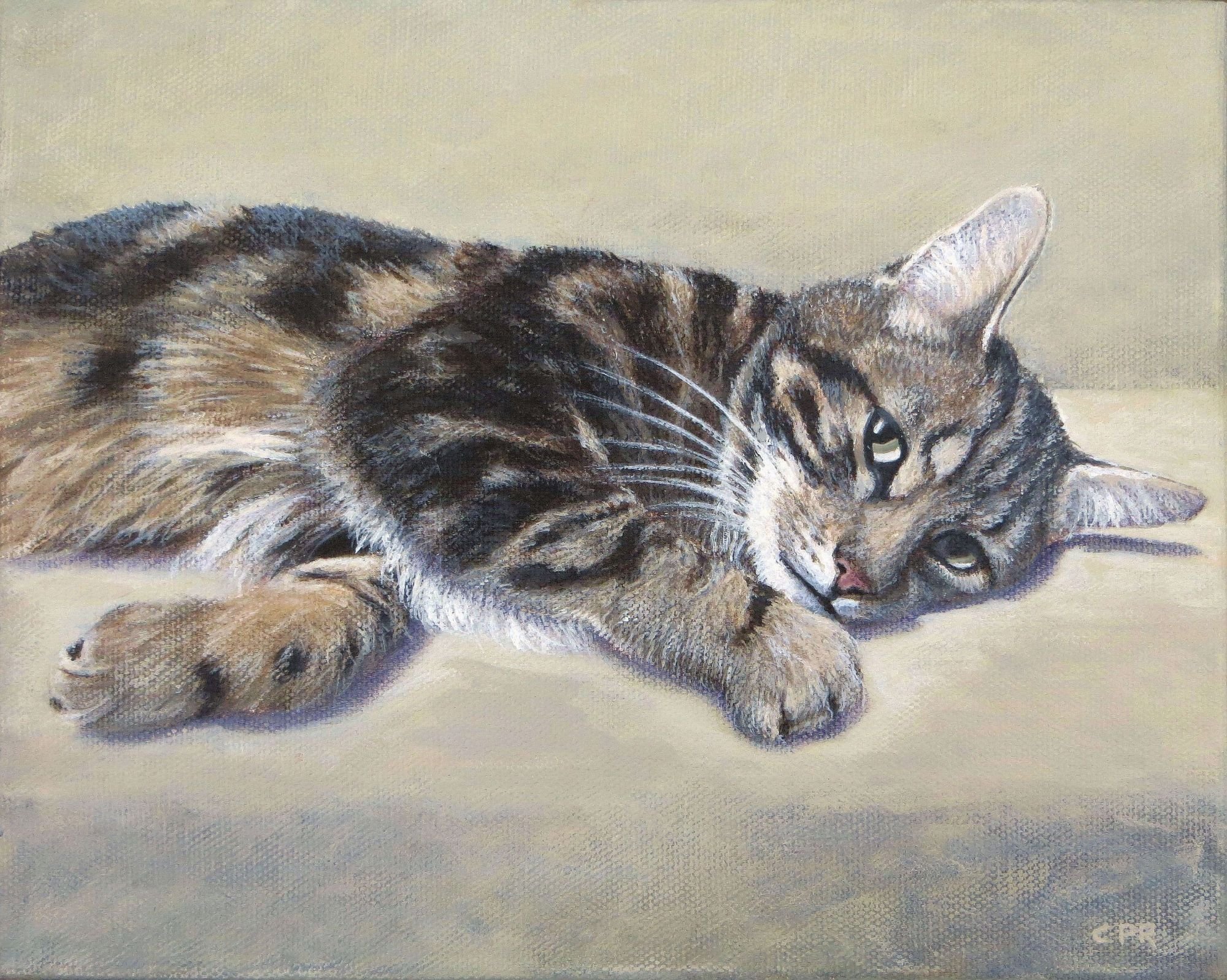 Tiggy
10x8 inch canvas
I love it, it's really beautiful, I wouldn't change anything, it's simply stunning! Thank you so much, it captures Tiggy's likeness so well and takes pride of place on our living room wall, it's great to have such a beautiful original painting.
Hema Oct 2014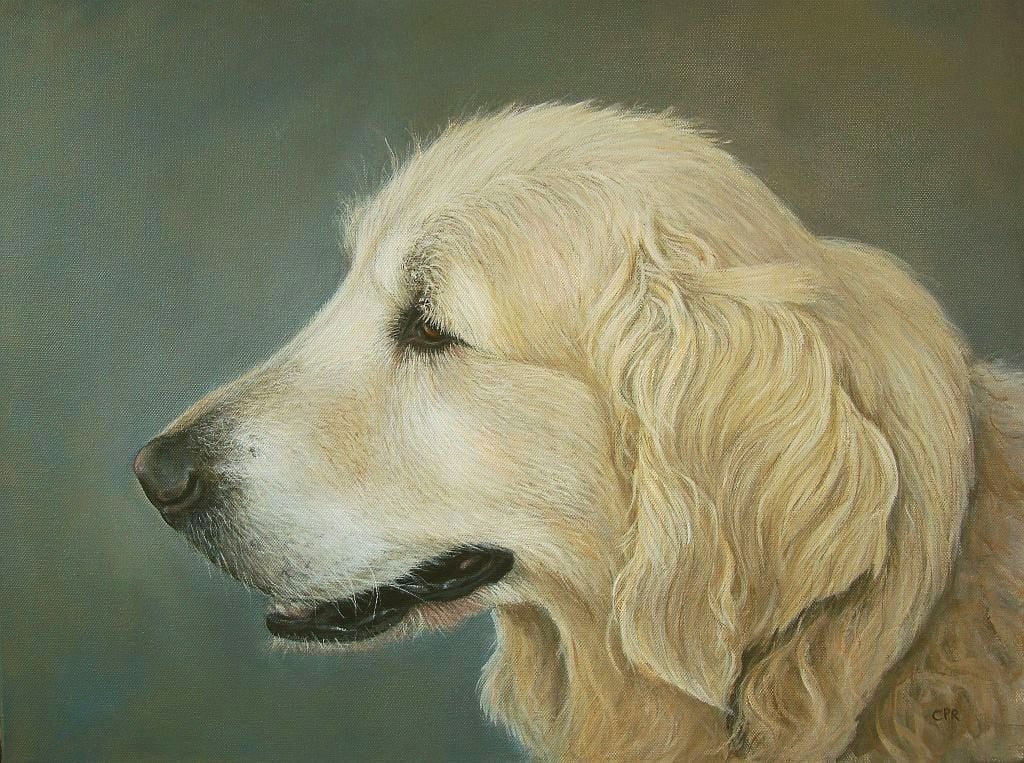 Autumn
24x18 inch canvas
I can still see the look on Mums face when she opened her birthday present, Carole's portrait of her beautiful Golden Retriever Autumn that we'd had commissioned. Stunning work!
James 2012
I echo my brother James comments about Carole"s portrait of gorgeous Autumn. We can't thank her enough.
Margaret 2012
Old man of the Sea
16x12 inch canvas
I immediately fell in love with one of Carole's paintings after visiting her page and the "Old man of the Sea" now hangs proudly in my house. Her ability to add depth and mystery to her subject's eyes in her portraiture astounds me and I cannot recommend her work highly enough.
Martin 2014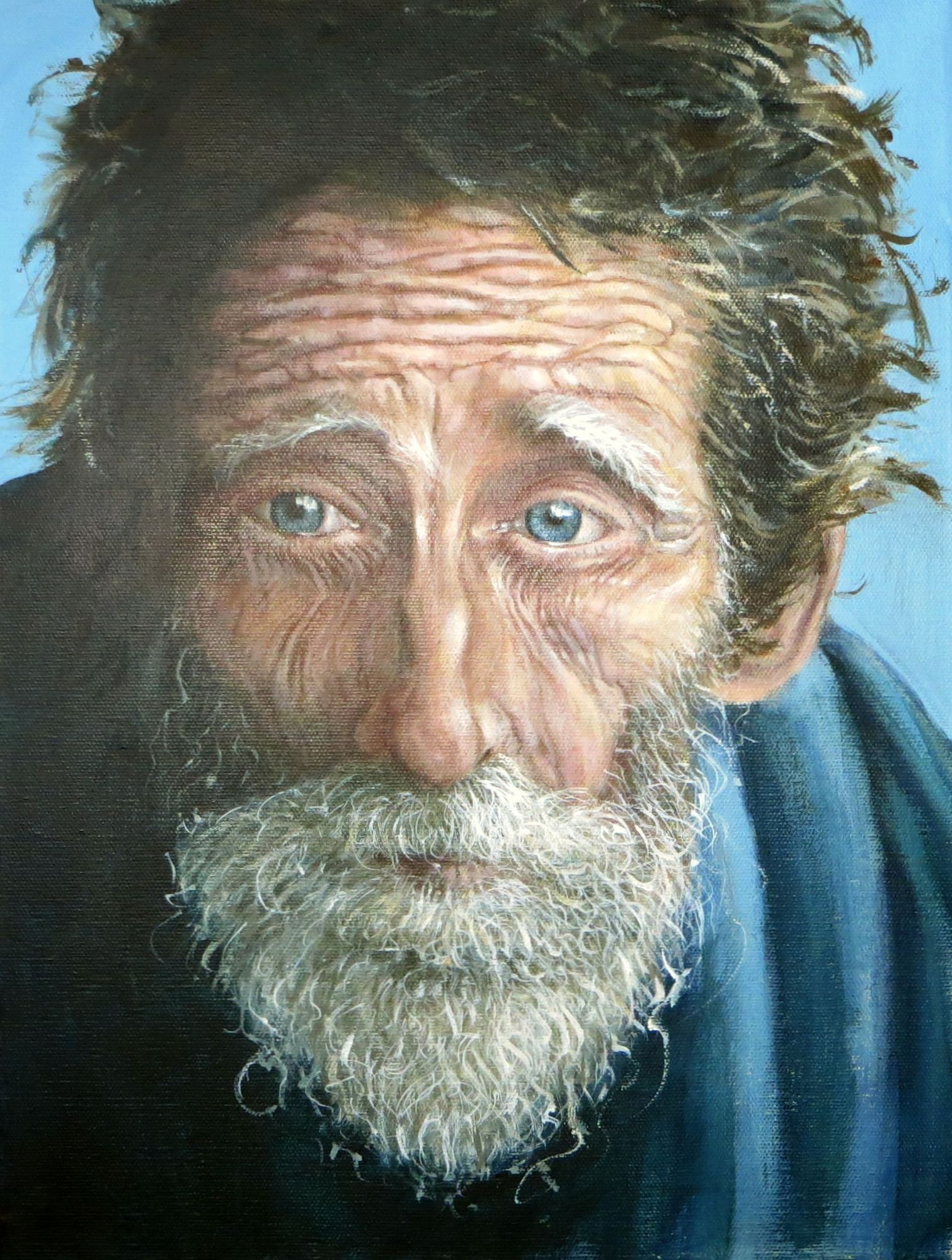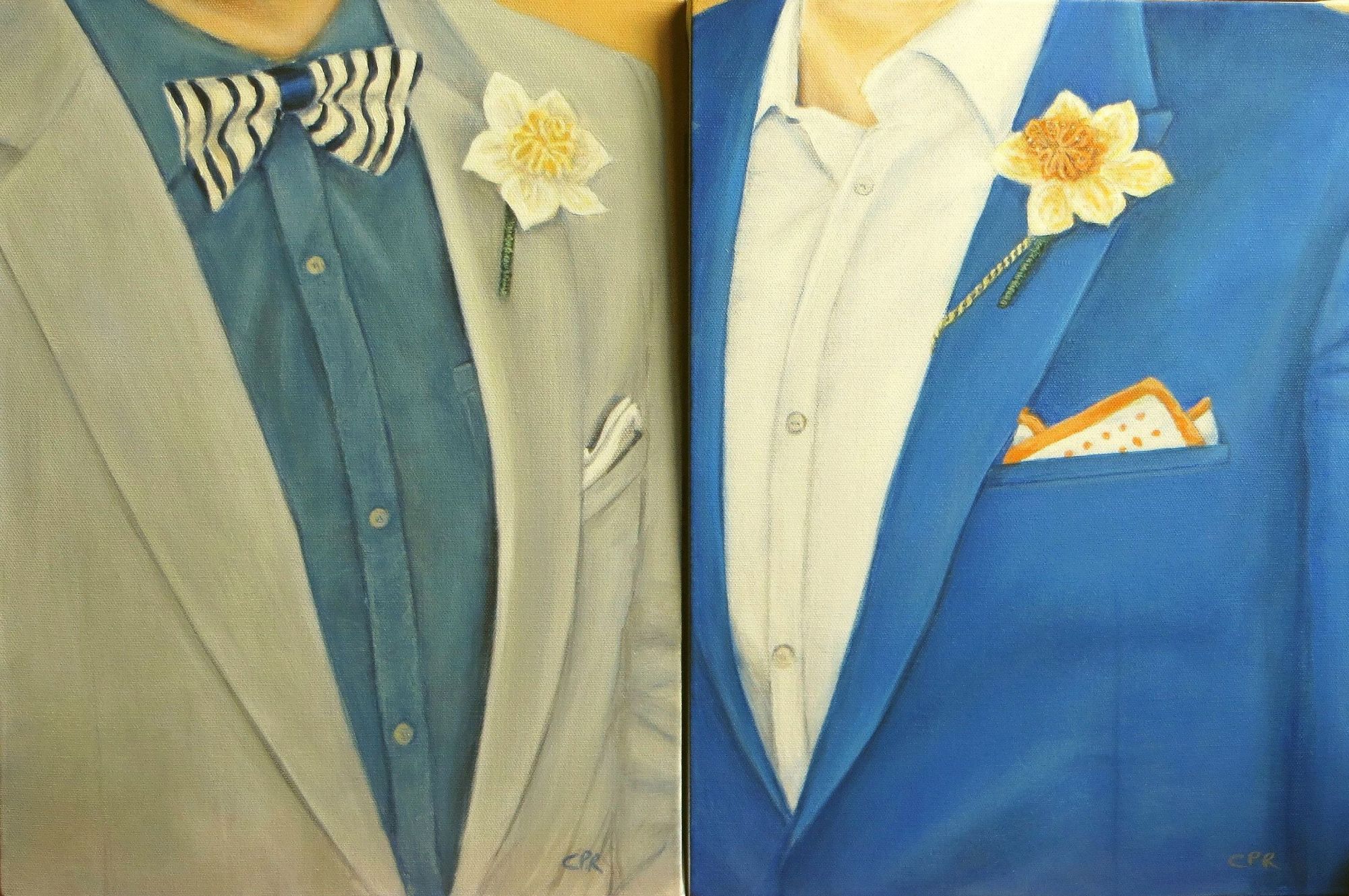 Various
Over the last few years we have had several pieces commissioned with Carole. We have two amazing paintings from our wedding day and a beautifully done piece from a holiday where I celebrated my 30th birthday. It's not easy to explain how much a commission means because they're so personal, but they take pride of place in each room and Carole has an extraordinary ability to capture every detail. I'm sure the ones we have won't be our last. Thank you, Carole.
Sean 2018
Obi
16x12 inch canvas
Having a unique commissioned painting of our little Dachshund Obi has captured his unique personality on canvass forever. Carole is exceptionally talented at interpreting a still image of a dog but somehow managing to also capture their unique qualities. The detail in this painting is nothing short of phenomenal, even down to the hairs on his ear. Friends have commented that it's almost a photographic image. This will be one of many commissions we request and I look forward to seeing more of Carole's talent in interpreting our family and pets. Thank you so much for doing this it's a unique gift that's simply irreplaceable!
Lisa and Lucy Adkins-Young Jan 2016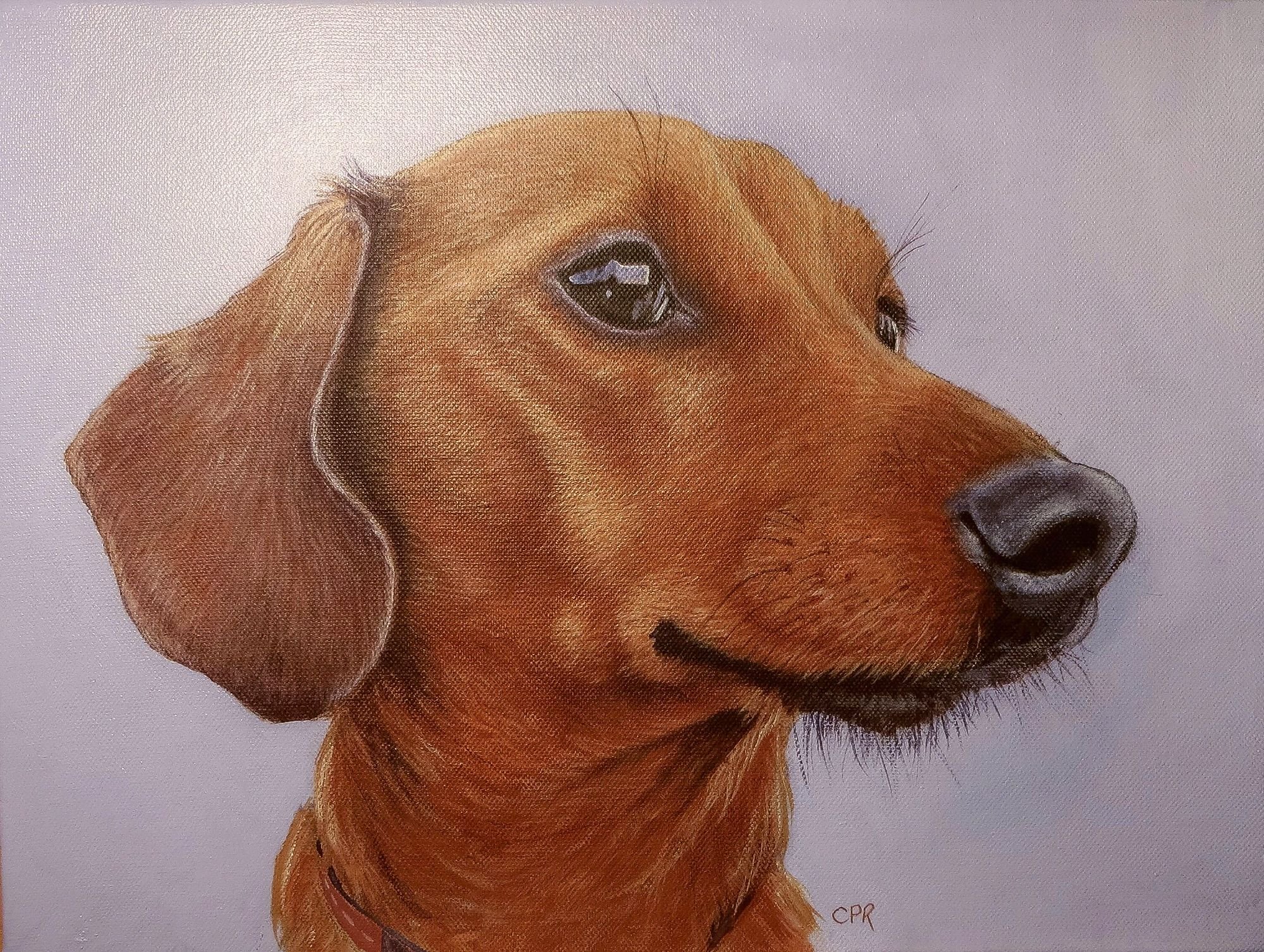 Rufus
20x20 inch canvas
"The painting was completed in three weeks. The final result is absolutely amazing! Carole has the ability to capture a dog's personality. Rufus is a very gentle kind boy and this comes through. His eyes and fur are captured perfectly. Carole e mailed to show all the stages of the painting from initial sketches to the finished article . This process allowed us to discuss any slight changes and tweaks. Along with the finished painting Carole gave me a memory stick showing all the various stages in the project which is fascinating . I thought the price was extremely fair and the whole experience very straightforward and immensely enjoyable. I can't wait to get my Goldendoodle Ludo " done "!
Carole is a delightful person and was my present a success ? Well suffice to say my husband was in tears on Christmas morning. Result !
Eileen Radcliffe Dec 2013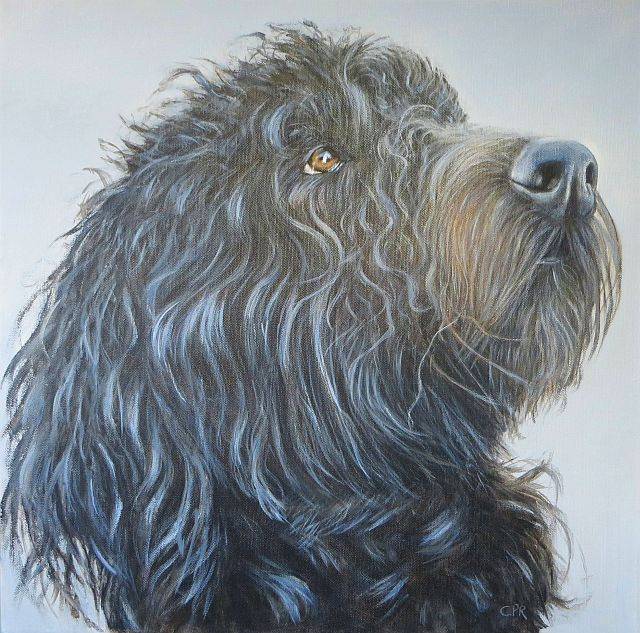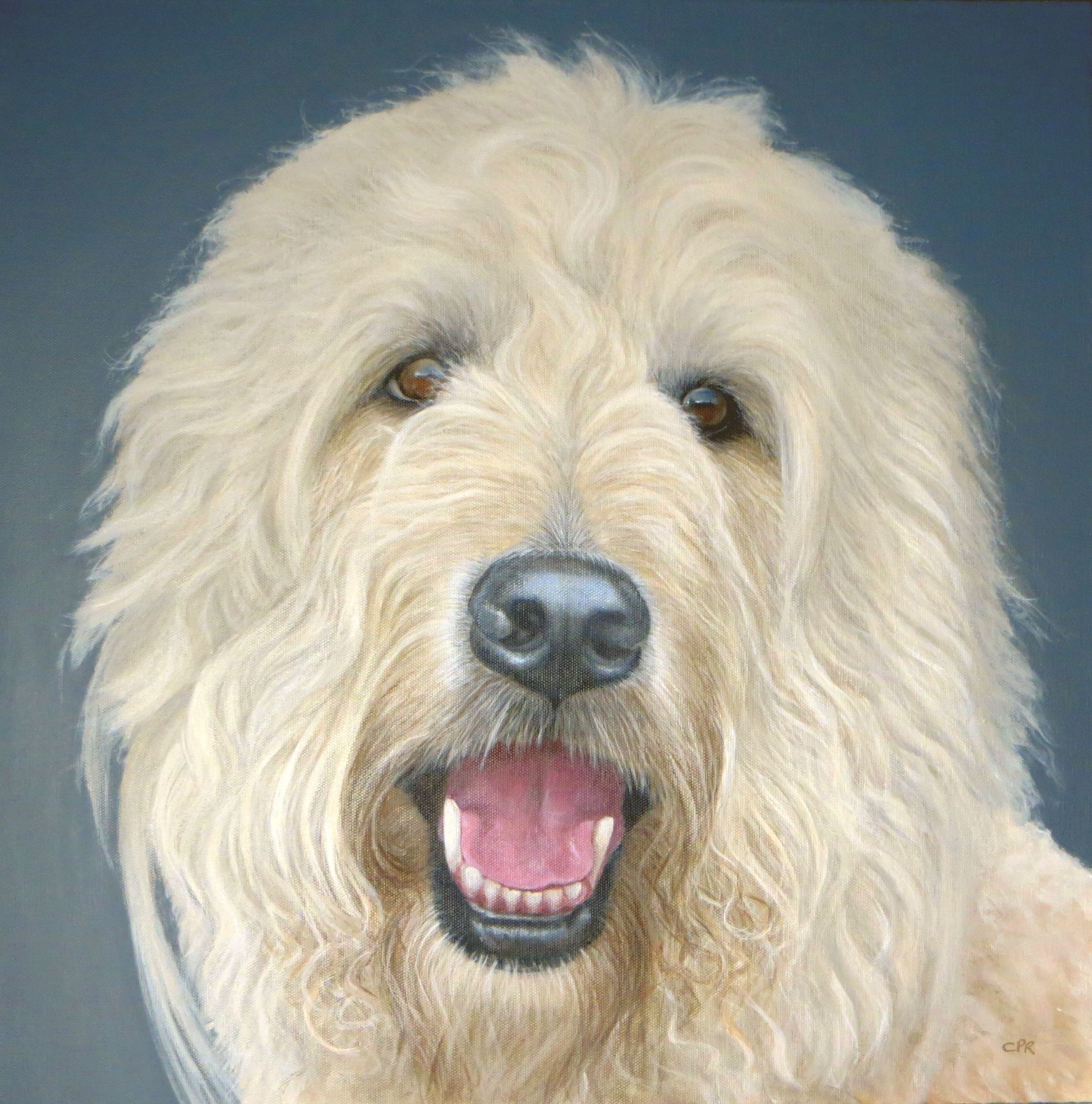 Ludo
20x20 inch canvas
Ludo's picture was an amazing success again, my husband really loved it - same reaction as with the painting of Rufus. Many many thanks again
Eileen Radcliffe Dec 2014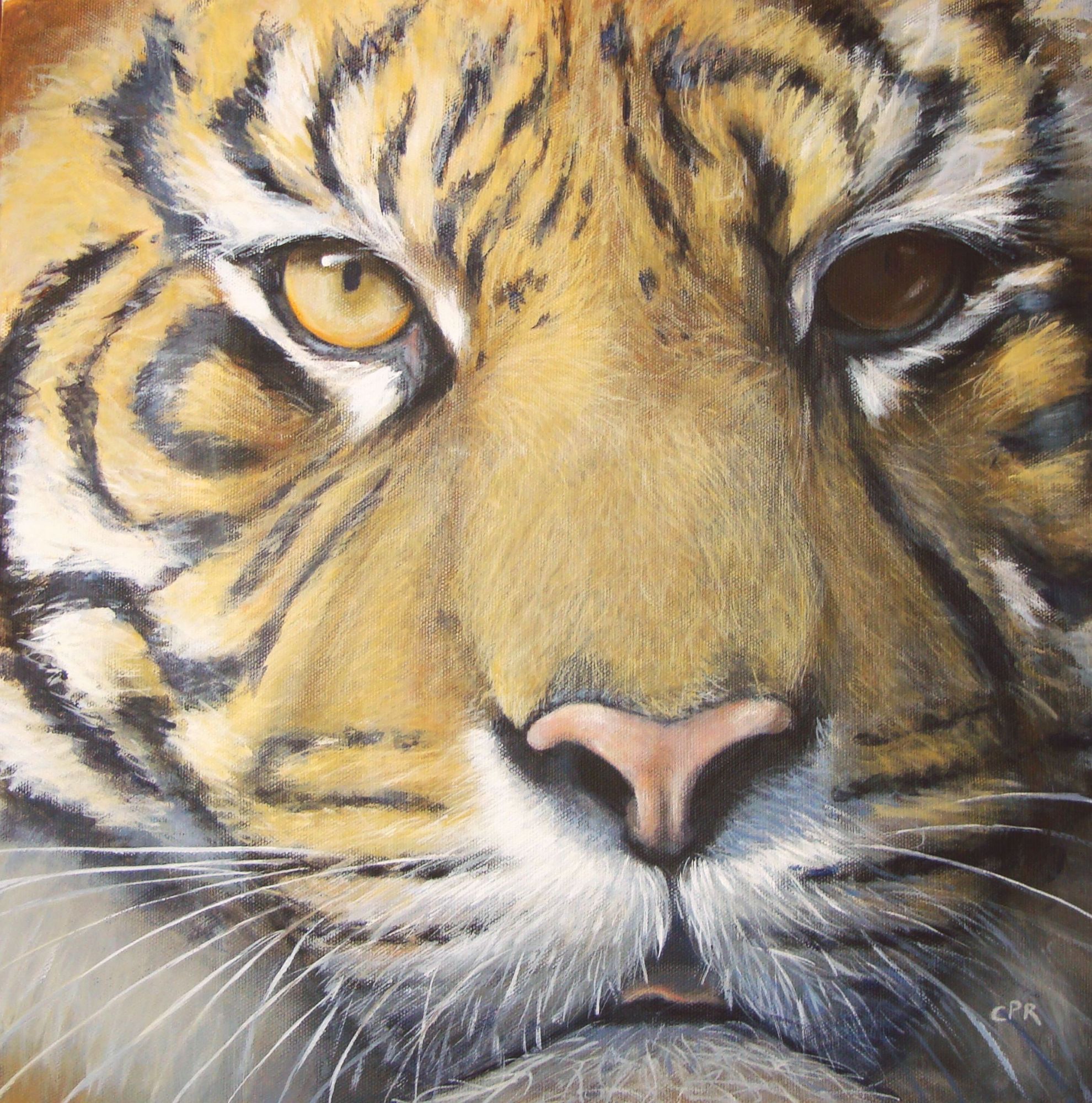 Tiger Face
16x16 inch canvas
I couldn't resist it any longer I know own an original Carole Russell painting. It arrived today and is hanging on my wall. It's even more beautiful than it looked in the photo - love it, thank you!
Tricia Cadman Oct 2014